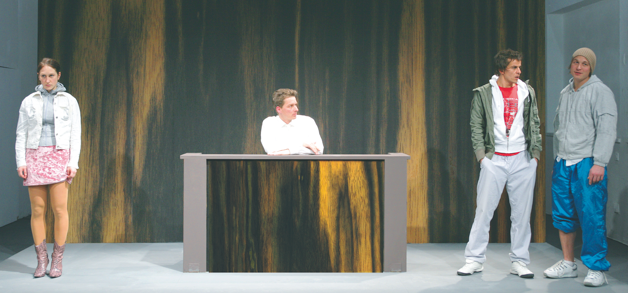 The Small Print
Terms and Conditions of Business of Horse Feathers Pty Ltd (t/a Mister Wallpaper)
The Small Print!
Terms and Conditions of Business of Horse Feathers Pty Ltd (t/a Mister Wallpaper)
1.) General
The following Terms and Conditions apply to each contract between Horse Feathers Pty Ltd (t/a Mister Wallpaper), 39 Jones St, Ultimo NSW 2007, Australia, ABN 46145527439 (Mister Wallpaper) and the customer (Customer) as identified on the order form.
2.) Contract
(1) A contract is not formed until the Customer's order is accepted in writing by Mister Wallpaper. Changes to the order are not valid until confirmed in writing by Mister Wallpaper.
(2) Mister Wallpaper reserves the right to refuse the Customer orders.
3.) Customer's Obligations
(1) Customer's data and image are processed automatically within the framework of an automated technical process without prior manual controls and correction by Mister Wallpaper. In uploading files, the Customer confirms that he/she is entitled to disseminate and reproduce the content and materials in the file. In other words: What gets printed is what was uploaded by the Customer.
(2) Customer guarantees that the materials in the transmitted files do not contravene existing law.
(3) Customer agrees in particular a) not to transmit to Mister Wallpaper any illegal, seditious, racist originals, materials or content; or artwork, materials or content that promote violence, or propaganda, symbols of unconstitutional parties, or their replacement organisations; or guides to criminal acts; pornographic originals, materials or content depicting sexual abuse of children or sexual acts with animals; or discriminatory statements or depictions with respect to race, sex, religion, nationality, disability, sexual preference or age; b) not to contravene any laws relating to the youth protection, or penal law. This applies in particular to the legal stipulations and to the provisions of the treaty on youth protection in the media; c) that the originals (in particular image and text files), content and materials transmitted to Mister Wallpaper do not infringe on copyrights, trademarks or other rights of any third party or parties, or infringe on the personal rights or any other rights of a third party or parties.
4.) Delivery
(1) Deliveries will be sent to the address stated for delivery in the order.
(2) Partial deliveries are permitted and shall be deemed independent deliveries, except in cases where Customer cannot be reasonably expected to accept partial delivery. Customer will not be invoiced for the additional cost of partial delivery.
(3) Mister Wallpaper always strives to keep deadlines it quotes.
(4) In case of impairments in delivery beyond the control of Mister Wallpaper (in particular due to force majeure) and which were not negligently caused by Mister Wallpaper, Mister Wallpaper is entitled to withdraw from the contract, providing that the impairment to performance is not of a temporary nature, without being liable to provide compensation. During the period of impairment, Mister Wallpaper shall not be deemed in default. The purchase price paid will be refunded should Mister Wallpaper withdraw from the contract.
5.) Terms of Payment
(1) The purchasing price is due immediately on conclusion of contract and will be debited from Customer's account in advance. Direct debit transactions or debit entries against credit cards will be effected on completion of the order.
(2) All prices are quoted including GST at current rates.
(3) In case of returned/reversed credit card/debit card transactions, Mister Wallpaper reserves the right to charge a reasonable handling fee in each case.
(4) All shipping costs, especially for packing, transport costs, transport insurance and deliveries are included in the stated price.
(5) Additional shipping costs will be charged if an incorrect delivery address, or an incorrect addressee is stated by the customer.
6.) Warranty/Passing of Rights
1) Information, drawings, figures, technical data, weights, measures and descriptions of features published in brochures, catalogues, circular letters, advertisements or price lists are for information purposes only. Mister Wallpaper accepts no liability for the accuracy of these details. The type and scope of delivery are subject only to the details specified in the order and confirmation of order.
(2) No guarantee is given against fading or for the waterproofing capability of printed products, except in cases where a written guarantee to the contrary is issued (e.g. UV coated printing process or lamination). Mister Wallpaper points out that printed products are designed exclusively for use in closed rooms.
(3) The designations and specifications laid down on conclusion of the contract represent the state of art at that time. Minor technical deviations (especially with respect to cropping and colour of the print) of the goods delivered compared to the goods advertised are permissible and do not represent a defect as long as they are typical for the industry and do not impede the contractually agreed purpose. Cropped images may differ slightly, but not significantly, from the specified size as is typical for images in stock frames. Minor, differences in printed colours that are typical for the industry may occur if the Customer's display is not calibrated to represent true colours. Black / white prints contain a minor colour tint that is typical for the industry due to colour printing processes. Complaints, credit notes and replacement prints based on these claims are excluded, except where deviations are above and beyond the norm for the industry.
(4) The Customer must declare any defects of the delivered goods within 14 days of delivery. Defects on products that are already installed can't be accepted.
7.) Destruction of Transmitted materials
(1) All originals and documents sent by the Customer to Mister Wallpaper for performance of the order and especially digital storage media, are not returned by Mister Wallpaper, but destroyed after fulfilling the contract. On express request by the Customer, Mister Wallpaper will return the documents submitted by the Customer to the Customer. The Customer must bear the costs of return shipment.
(2) Mister Wallpaper reserves the right to create a backup copy, especially of Customer's originals, materials and content submitted by digital means, in order to comply without delay with the Customer's request for remedying of defects. The data in the backup copy will be used by Mister Wallpaper only for the purpose of remedying defects. After the warranty period has expired, Mister Wallpaper will immediately destroy the backup copy.
8.) Final provisions
(1) The Australian law shall apply to this contracts. This does not affect mandatory provisions of the state in which the Customer has his/her place of abode.
(2) If any provision of this Agreement is invalid, this shall not affect the enforceability of the remaining provisions.
General Terms and Conditions of Business: Publication Date June 2019